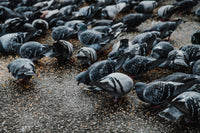 Each year millions of solar panels are damaged by pigeons and vermin
When an infestation of Pigeons and Vermin begin on your residential or commercial property it can cause a number of big issues. Pigeons, in particular, will cause a great deal of damage to your Solar Panels causing them to become in-efficient and in some cases fail.
The damage caused is so severe it's can cause long term problems with solar panels
Over time, bird nests, droppings and debris can cause considerable damage to solar panels. When birds build nests under solar panels, they attract other pests, such as squirrels and rodents.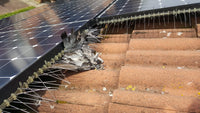 Protect your invesment TODAY with PanelProof: A product that is unrivalled in the UK market.
Our newest product 'PanelProof' combines effective panel protection, with an aesthetically pleasing design, something that is unmatched amongst other brands of solar panel bird mesh in the UK at present.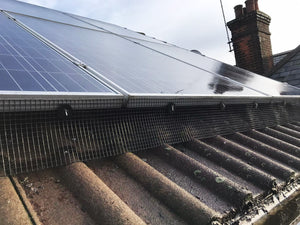 Enhance and protect your Solar Panels
At PPSP, we have solved that problem by having our product expertly coated in 19 gauge stainless steel coated in black PVC - which is subtle and attractive. Furthermore, our panel proofing is protected from rust because of the stainless steel material - so unlike other products, the life of your product will be protected for longer and will remain appealing to the eye.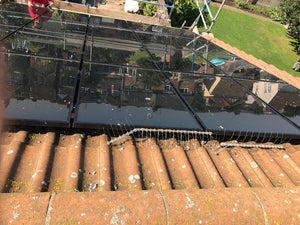 Don't waste your money on ugly protection that doesn't work
Most panel protection available is clumsy, obvious and made of contrasting metal, so that it looks unsightly and ugly. Why pay for an investment like solar panels only to have the aesthetic ruined by clunky mesh that is imposing and unattractive?
PanelProof Solar Panel Protection Systems
Made with 19 gauge stainless steel and coated in black PVC, our protection systems are constructed to be strong and reliable, yet subtle enough not to look unpleasant.
Excellent job and speedily done. Solar panels cleaned and pigeon proofed with polite team. Goodbye pigeons. Thanks very much.

Bob McDowall
A very neat solution to the problem. PPSP Ltd. arrived on time and carried out the work efficiently and effectively, cleaning out the area under the panels before applying the protection. We had stainless steel mesh applied to the side of the panels and this so tidy you have to look hard to see where they are. The birds are now wandering around the roof but can't get under the panels so the proofing is already working well.

John Staincliffe
PPSP came to our property today as we were having issues with squirrels and pigeons nesting under our solar panels. They installed fencing and cleared all of the mess that the animals had been making. They also cleaned the panels and did a first class job on the install. Can't recommend them enough!Like

kingmonkey1974